Sunday, July 30, 2006


A Quickie With...Thunderbirds Are Now!
This is a new feature for Off The Record. It's called A Quickie With... and basically it speaks for itself. I ask a band some random questions and they answer back for some random answers, simple. First band to do so was Thunderbirds Are Now! and Ryan Allen (Vocals/Guitar) had some pretty crazy answers. Download the document and read for yourself.

Ryan Allen Quickie

By: James
Labels: James
Friday, July 28, 2006


McLusky Does The Blues?
Possible one of the most exciting and energetic bands of the late 90's early 00's, McLusky sure knew how to put on a party and put out a classic record (in my eyes anyway). Does Dallas is pure fun from start to finish, with some of the most damn catchiest stuff every written and some pretty funny lyrics might I add. If your still yet to hear of this band, well its a bit late for new stuff because they've broken up.

McLusky Lightsabre Cocksucking Blues

By: James
Labels: James
Wednesday, July 26, 2006


Animal Collective
Another band I'm really digging at the monent is Animal Collective. I saw a filmclip for one of their songs a few weeks back and ever since then i have been listening to them and really enjoying their stuff. These guys are just all over the place, with their music and their lyrics, its just crazy! Have a listen of Grass and you'll understand what I mean.

Animal Collective Grass

By: James
Labels: James
Monday, July 24, 2006


Moneen, Birdy Nam Nam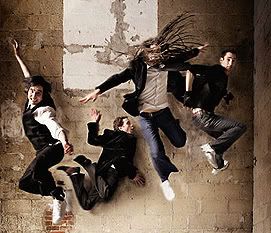 Hello everyone, this is Jacq and I'm finally doing my first post so yay! Well let's get straight to the music, shall we? Here's Moneen, a post-hardcore band from Ontario, Canada best known for their ridiculously catchy melodies as well as ridiculously long song titles. These are two tracks from their latest album 'The Red Tree'. I hope it's okay that all songs in this post are uploaded on Sendspace, everything else doesn't seem to be working for me.


Moneen This Is All Bigger Than Me
Moneen If Tragedy's Appealing, Then Disaster's an Addiction





Birdy Nam Nam are a DJ/turntable crew from France who have won several accolades such as the DMC Technics 2002 World TEAM Championships, so you can be assured these guys are good at what they do. Somewhat similar to The Avalanches from Australia, Birdy Nam Nam mixes all sorts of sound samples from a bunch of different records to conjure up a hypnotic blend of their very own music. These two tracks are taken off their self-titled debut album.

Birdy Nam Nam

Abbesses

Birdy Nam Nam

From Here to There


By: Jacq

Labels: Jacq

I'm Not Afraid Of You And I Will Beat Your Ass
Yo La Tengo are one of the bands that never fail to disappoint me every time they release a new album. Titled "I'm Not Afraid Of You And I Will Beat Your Ass" is due out to be released on September 12th through Matador Records, which features the current single "Beanbag Chair", it has a catchy melodic pop sound. The album as a whole, displays what Yo La Tengo is best known for and no it's not covers. "I'm Not Afraid Of You And I Will Beat Your Ass" has been compiled with 15 original tracks ranging from shoegaze to noise. Definetly one to look out for soon.

Yo La Tengo Beanbag Chair
Yo La Tengo Pass The Hatchet


By: Sandra
Labels: Sandra

Who Will Cut The Unicorns Hair?

Probably the worst post heading ever! Try to ignore that if you can. Anyway, The Unicorns, probably the most catchiest band I have heard in a long long time and have the most whacked out lyrics i've ever read or listened too. I don't know how they manage to combine great music with funny lyrics, but they've pulled it off and it works a treat. Truly excellent.

The Unicorns Tuff Ghost
The Unicorns Les Os

By: James
Labels: James
Saturday, July 22, 2006


Long Time Coming
They Shoot Horses Don't They? are an odd bunch from Vancouver, Canada. Their sound is absurd, crazy carnival marching band influencing on the side to folk and psychedelic. Pulling out trumphets and saxophones blended in with a touch of rock is going to end up as a freak show. Many would consider this hard to listen to, not a band for everyone but an exceptional one if you can stand it. They've been compared to Captain Beefheart. I don't know if it's been me lately but I've been hooked on a lot of obscure lyrics and yet again this band delivers that. "I'm gonna start by eating drugs and I'm gonna form a new religion, living in the wood and eating bugs, I'm gonna do whatever's big yeah." From the song "The Bugs" off their album "Boo Hoo Hoo Boo". Sounds like forming a cult, but let's just say it's gawky.

They Shoot Horses Don't They? Empty Head
They Shoot Horses Don't They? Lowlife


I was looking forward to see Clap Your Hands Say Yeah tonight but they've cancelled their Japanese and Australian tour. Lead singer Alec Ounsworth strained his voice and therefore cancelling the shows. They would also be playing at Splendour In The Grass tomorrow but instead have been replaced by Butterfingers. Here are two live CYHSY tracks:

Clap Your Hands Say Yeah Me And You Watson (Live)
Clap Your Hands Say Yeah Papa's Waltz (Live)

I've also comprised a small mix with some of the artists playing at the Splendour In The Grass music festival during this weekend. (Links are all over the place, file hosting sites are killing me at the moment. Apologies)

Sonic Youth Incinerate
The Grates Inside/Outside
Tv On The Radio Snakes And Martyrs
Augie March One Crowded Hour
The Avalanches Since I Left You
Atmosphere Hockey Hair
Mogwai Friend Of The Night (Live)
Dungen Festival
Brian Wilson Smart Girls
Yeah Yeah Yeahs Turn Into
You Am I Constance George
Decoder Ring Somersault
The Zutons Why Won't You Give Me Your Love
Matisyahu King Without A Crown
Gerling Auf Wiedersehn

By: Sandra
Labels: Sandra
Wednesday, July 19, 2006


Brisk
I had to post about these guys straight away. If you like choatic, infectious and corrupting music then go no further than Brisk. There songs come swinging at you like a bag of bricks armed with an unpredictable and explosive post punk grounding that never stops driving forward yet always seems poised on the brink of collapse.

Brisk Your Rising Breath
Brisk Destroyer Hill

By: James
Labels: James
Tuesday, July 18, 2006


Antsy Pants
Fix your eyes on the image aside. I love Kimya Dawson for her lyrical work and quirkiness. It's what makes her music fun. The Moldy Peaches have been a favourite of mine for quite some time and now I have found a new love: Antsy Pants. Kimya has started a band with her hero Leo, a 13 year old french boy singing along with his ukulele. Leo along with Billy Jet Pilot, Angelo Spencer and Ben Lupus from Antsy Pants are also in the band Bear Creek. Antsy Pants seem to have made themselves the all star band teaming also with some American friends Jarrod and Emily from The Solvents, Jane Kidder and Howard Hughes. Sure the Antsy Pants songs are kind of short but it only adds up to the amount of fun that their music bring. They have a CD that you can order through plan-it-x records.

Antsy Pants Vampire
Antsy Pants Amazing Kids Do Amazing Shit
Antsy Pants Sometimes I Dream
Antsy Pants Big City

By: Sandra
Labels: Sandra
Monday, July 17, 2006


Tiger's Girlfriend
Tiger Baby formed not long after the break-up of Polytone. The band started as a two piece but they needed a singer. What better way to get a singer for a band then post a note on a blackboard at the University of Copenhagen to which Pernille Pang responded and became the lead singer and lyrical artist for the band.

Tiger Baby Girlfriend
Tiger Baby Sweetheart

By: James
Labels: James
Sunday, July 16, 2006


Kite Flying Society
I've enjoyed these guys for quite some time over the past 3 months. Kite Flying Society are a five piece (despite the image on the right) band from San Diego, California. They orginally began with just two friends with an equipped computer and plenty of synth software. Kite Flying Society will make you remember what summer is really like in love. Perhaps clap your hands, dance or just daydream while looking at the sky for no absoulate reason. Don't get confused though, there are two bands with this name, the other are a screamo band which really contrasts between the band I'm reviewing. They sound like bits and pieces of Sufjan Stevens, (less twee) The Boy Least Likely To and Oh No! Oh My! I'm ecstatic to hear they have an album releasing soon on July 28th which is about two weeks away from today called "Where Is The Glow?" At the moment they are having presale of the album up until the actual release which they will throw in a bonus 3 track CD. Expect big things.

Kite Flying Society Groundflower
Kite Flying Society Love And Seagulls

By: Sandra
Labels: Sandra
Saturday, July 15, 2006


Neon Blonde
Neon Blonde is a reasonably new group consisting of Johnny Whitney and Mark Gajadhar from Blood Brothers. The two expand upon The Blood Brothers sound by making more electronic and dance music, while still keeping their hardcore roots.

Neon Blonde Headlines
Neon Blonde Barbados

By: James
Labels: James
Friday, July 14, 2006


Mistake In Time?
You may know them as Howling Bells, but it was first Waikiki who started it all in 2000. Front woman Juanita Stein could just simply forget about her previous work saying "I didn't believe in what I was doing". After a discussion with her bandmates, it was either to stay as the troubled band or steer into a complete different direction. Four years later the band moved to London then to return back to Australia two years later as Howling Bells. Waikiki are much softer and more to the side of indie pop singalong, mellow and sort of dreamy shoegaze. Their album "I'm Already Home" hit on a large scale in Australia, from releasing singles such as "Here Comes September" and "New Technology". One of their biggest influences is Mazzy Star in which similarities do appear. I prefer Waikiki more than Howling Bells (it's probably just me because I've listened to Waikiki much longer or maybe I do actually like them more) but both are just as great if you're a fan of great female vocals. Ben Lee also worked with Waikiki with the song "Complicated" featured on the album "I'm Already Home".

Waikiki Here Comes September
Waikiki Morning Light
Waikiki Waves

By: Sandra
Labels: Sandra
Thursday, July 13, 2006


Wild's Troubled Mind
Billy Childish (real name Steven John Hamper) has been apart of many bands over his 35 year career and has released over 100LP's! His most recent band Wild Billy Childish And The Buff Medways has released only 4 CD's, but all 4 have been excellent releases and have some pure stunning tracks. The guys a lyrical genius. He's also published more than 40 collections of poetry, written three novels, and produced more than 2,500 paintings. Childish is also known for his explicit and prolific work: he has detailed his love life and childhood sexual abuse, notably in his early poetry and the novel My Fault. Although the guy may be a little bit messed up, he's still pure legend. Here's my favorite Billy Childish track.

Wild Billy Childish And The Buff Medways Troubled Mind

By: James
Labels: James
Wednesday, July 12, 2006


R.I.P Syd Barrett
In tribute to the late Syd Barret (Roger Keith Barrett) one of the founding members of Pink Floyd, was one of the most influential people in rock to the likes of Paul McCartney, David Bowie, Jimmy Page, Brian Eno and The Damned. His time in the spotlight with Pink Floyd only lasted four years (1965-1968) until leaving the band to work on his solo career which took over five years (1968-1972). He passed away at the age of 60 on Friday 7th July, 2006 due to diabetes-related illness.

Pink Floyd Wish You Were Here
Pink Floyd Time
Syd Barrett No Good Trying
Syd Barrett Octopus

By: Sandra
Labels: Sandra
Tuesday, July 11, 2006


The Young Knives
The Young Knives are one of the fresh batch of bands coming from the UK at the moment, wearing their thrifted suits. Lead singer Henry Dartnall sings out ridiculous lyrics "Who are these people? They are too stupid to be your real parents!" from their latest single She's Attracted To, couldn't be more honest and blunt. Or you have have heard Weekends And Bleakdays with "Hot summer! What a bummer! Me, oh my!" They sound like a mix between The Futureheads, Supergrass and The Rakes it's no wander they've also supported for those bands as well. I'd describe them more a bit like Art Brut in terms of their song writing style. The Young Knives have been highly applauded for their live performances. So if you're in the UK right now, check out these guys in the upcoming summer festivals. Or if you're not, stay in tune for the new album Voices Of Animals And Men, released on August 21st. Here are some tracks from their upcoming album.

The Young Knives She's Attracted To
The Young Knives Another Hollow Line
The Young Knives Here's The Rumour Mill
By: Sandra
Labels: Sandra

A Crisis Is Coming!
Can anyone else smell a great album coming our way. I know I can and no doubt it will be Alexisonfire's newest release Crisis. I haven't heard anything off it yet, but I already know its going to be awesome! Their last album "Watch Out!" still, to this day, one of my favorite cd's ever. So heres my favorite Alexisonfire song.

Alexisonfire Get Fighted
Sunday, July 09, 2006


Echo Me, Astronaut
I dont know how I came across this band, but I did and im glad that i did. These guys are great, I'm really digging their style, its different. They've got a whole heap of dates planned for American over the next month or so, if they're playing in your state make sure and go seem them.

Go check them out at their Myspace

Sorry for no MP3's. My computer is really slow today.
Wednesday, July 05, 2006


Spod's Woman
Spod (aka The Raddest Man Alive) has just released a remix of Wolfmother's Woman. Its a pretty funny remix, mainly because he doesn't know the lyrics. Definately worth checking out if your into remixe's. This guy is classic.

Wolfmother Woman (Spod Remix)
Monday, July 03, 2006


Insound New MP3's

The Myriad Stretched Over
Professor Murder Free Stress Tests
Tokyo Police Cop Nature Of The Experiment
© Copyright Off The Record
Best viewed in 1024x768