Wednesday, December 19, 2007


Grace's Top 15 Albums of 2007

2007 has been a tumultuous and grand year in music for myself. I've discovered a lot of new artists and bands, so I'd say this year's list is notably different from the last 'year of' post I wrote for OTR. Dizzying highs and new lows seemed to be the general consensus of this year. I hope you've enjoyed it as much as I have. So long, farewell! Now, enough sappy hubbub, here are my top fifteen albums of 2007. I hope you enjoy.


15. !!! - Myth Takes

!!! are the ultimate dorky dancing, no holds barred musical collective, and have proved themselves to be reigning with their third album Myth Takes. With the most excellent dance moves courtesy of lead vocalist Nic Offer (who reminds me of black cats and outcasts prowling the late night streets in search of mischievous, random fun), !!! pounds all their energy into efforts of punk and dance to create a bloody stadium of electric dance, funk and groove.


!!! Must Be the Moon
!!! Heart of Hearts


14. Deerhoof - Friend Opportunity

Deerhoof have crafted a precious gem in the jewel box album. Friend Opportunity still has those inherent Deerhoof qualities with the explosive deception of noise duelling with seemingly incongruous vocals, but they've leaned towards a more poppy sensibility. Oddly danceable in all contexts, Friend Opportunity is a full blown will contest of catchy melodies, erratic rhythm and copious additions of tone due to the pedals and loops. Distorted, yet elegant, it's a bouncing ball of unbridled creativity.

Deerhoof The Perfect Me
Deerhoof Kidz Are So Small


13. I Heart Hiroshima - Tuff Teef

Angular Brisbane rockers I Heart Hiroshima released their début album earlier this year, and I say, 'tis a very strong début. It's got that lo-fi sensibility attached to it; raw edges and sound and all. The slightly pessimistic but still funny lyricism gives the album a blunt charm. The detached vocals, tight execution, bassless, energetic sound and equally shared vocal duties yield great opportunities to expand their possibilities, which I believe is a road in the very near future.

I Heart Hiroshima Punks
I Heart Hiroshima Crime


12. Immaculate Machine - Immaculate Machine's Fables

Musical ability runs in one of the vocalists, Kathryn Calder, family tree. Her uncle is the eminent all around star A.C. Newman. Calder and her fellow bandmates have been gifted themselves with the ability to create vivifying tunes complimented with vocal harmonies, profuse enthusiasm and cryptic lyrics. Fables is also secretly musician packed – Alex Kapranos from Franz Ferdinand and The Cribs contributed vocals while Owen Pallett lent his violin skills as the icing and cherry on top of the cake.

Immaculate Machine Jarhand
Immaculate Machine Nothing Ever Happens


11. A Sunny Day in Glasgow - Scribble Mural Comic Journal

A relative newbie on the ethereal pop scene, A Sunny Day In Glasgow's eerie emanation that coincides with the delirious background sounds like a match made in heaven. The whole album is a mindtrip to a slow descent of ominous possibilities. Whimsical in nature, the striking musical arrangements are simple, yet alluring daydreams radiating innocence. The buoyant, gauzy whispers illuminate the luxuriant electronic layers.


A Sunny Day In Glasgow Wake Up Pretty
A Sunny Day in Glasgow Ghost In The Graveyard


10. Pants Yell! - Alison Statton

I only recently started listening to the new Pants Yell! album but it truly is a rich, textured album. The mellifluous melodies, humble vocals, exciting brass instruments and quick bursts of energy deviating from the usual quietly warm melody always get me smiling. Expressing reverence towards the vocalist of post-punk band Young Marble Giants, Pants Yell! have created elegant compositions with intent to discourse their honest, solemn sentiments to the listener with an almost fragile beauty.

Pants Yell! Reject, Reject
Pants Yell! A New City Life


09. Caribou - Andorra

Caribou falls into the unique and highly perplexing bundle of experimental electronic artists. There's no definite way to pinpoint any aspect of these artists, but with Andorra, his latest album, it seems he's flown out a bit. Andorra, for lack of better words, reminds me of spring. It's a spectrum of lush sounds, wistful vocals and a throw in of summery pops. The sweeping strings, guitars and keyboard serve as the ground for an expansion of his already broad musical palette. Andorra really is a whole new language.

Caribou Melody Day
Caribou Desiree


08. Marnie Stern - In Advance of the Broken Arm

Marnie Stern's proficient guitar work has captured my applause. Everyone's always blabbing on about how girls can do things just as good as boys, and Stern proves that without a doubt. She leaves her trail of destruction one song at a time with crazed impetuousness, procuring a greatly opulent energy all the while teaming it with her nearly nonsensical, strange vocals. She masters something not many people can achieve – an elaborate, all guns a-blazing album. Hurrah!

Marnie Stern Grapefruit
Marnie Stern Precious Metal


07. Do Make Say Think - You, You're a History in Rust

Do Make Say Think records have a penchant of being gossamer until I listened to You, You're a History in Rust. Of course, I expected the same technical skill and interplay between each song, but You has captured more than my attention. There's no need for eloquent discourse when you're talking about Do Make Say Think. My favourite, The Universe!, is shift from normal counterparts with harsh guitars that explode into an almost discordant mash of noise and emotion.

Do Make Say Think The Universe!
Do Make Say Think Executioner Blues


06. Bonde do Rolê - With Lasers

A listen to this record is a dance across the line from puritan to raucous, sex permeated fun of the decadent kind. They rattle on about sex after school and metal fans in the most indubitably brusque and offensive manner, which is quite entertaining. The album has that certain quality to strike up camaraderie, which is rare. Bonde do Rolê were supposed to tour the country in January but unfortunately cancelled due to friction in the band.


Bonde do Rolê Bondallica
Bonde do Rolê James Bonde


05. Yelle - Pop-Up

"Cuizinier avec ton petit sexe entoure de poils roux" is the first line that Yelle sings with a sense of satisfaction from the song Je Veux te Noir, a ferocious criticism about a man and his words. I can see how she garners comparisons with Uffie. They also both have that electro pop French related girl persona. She really did pop up out of nowhere with her brand of electro pop being of the infectiously catchy kind. I recently saw her life at Parklife, and it was voice losing, crazy dancing fun. Always a plus!

Yelle A Cause Des Garçons
Yelle Je Veux te Voir


04. Gutevolk - Tiny People Singing Over the Rainbow

Japan is really a land of everything – the pure pop purveyors, the noise rockers and then there are the experimenting, electronic crafters to name a few. Gutevolk, or Hirono Nishiyama, is the perfect cast of the third. Nishiyama adds a bit of everything in the pot from cloudfuls of bedroom pop, lashings of ambient leanings and decent sprinklings of folk aesthetics. Her heavenly vocals make for a very delightful listen and the animated, perspicuous arrangements is a child's dream come true.

Gutevolk Portable Rain
Gutevolk The Door to Everywhere


03. Shugo Tokumaru - Exit

Do you remember that scene from Amélie where he watches the tape with the many different scenes in it? Exit is like that; like a demented dragonfly whizzing through the perilous soundscapes, finding a new experience in each one. Tokumaru is a provisioner of blithe guitar pop and he created Exit, a feast for the ears. Each track paints their part of a sweet sounding anecdote for the lazy Saturday afternoon.


Shugo Tokumaru Parachute
Shugo Tokumaru D.P.O.


02. The Most Serene Republic - Population

My first post about TMSR hoped that they would hone their youthful enthusiasm into their second album and the result is something I would have never imagined of – a complex, rousing collection of unblemished perfection that opens up to one amazing record. It combines the best aspects of their previous album with a more refined outlook to create a daring album of monolithic proportions. It's got the compelling flourishes and the pensive moment then and now.

The Most Serene Republic Compliance
The Most Serene Republic Neurasthenia


01. To My Boy - Messages

Messages seems to be the typical cold new rave record from first glance. In actuality, it's more like a carnival ride overflowing with exuberant fantasticality. Eccentric beats accompanied by grand vocals seems like a sure-fire road to a pretentious disaster but To My Boy can basically pull off anything. The lyrical goodness resembles the Jetsons - the image of the information age with hovercars and computers. Messages is an exhilarating ride through binary codes that never fails to hit the right beat.

To My Boy Eliminate
To My Boy In the Zone
Labels: Grace
Wednesday, December 12, 2007


Sandra's Top 15 Albums of 2007

Here we go, fifteen of my top albums of this year. It's a strange mixture but the usual to expect from me. This year was overwhelming with music, maybe not so much as finding it sometimes hard to keep up to, without having some to creep up on me at the last moments and some I'm still yet to discover and listen to. As I said last year, numbers are never good to me so disregard them and just enjoy them as they are. So long 2007!


15. GoodBooks - Control

We all have a guilty pleasure, mine is GoodBooks. It can be random and make partial sense sometimes but it sounds good that you can't stop listening and dancing. Apart from the wordiness of the lyrics resembling that of an old history teacher, the album is a young endeavour of the band's curiosity of the world (war & politics, without raising any agendas). The music, however is like a smooth textured crème brûlée (how that works, I'm not sure), ignited by its 80's influenced electronic beats and fine melodies.

GoodBooks The Curse Of Saul
GoodBooks Passchendaele


14. Art Brut - It's A Bit Complicated

They've proved themselves more than just forming a band of irony (apart from the fact, they are still funny as before), which has made us grown accustomed to Argos' familiar outpourings from strange relationships and ex-girlfriends, drinking Hennessey with Morrissey to punk rock music. A bit heavier and messier than the début, it nonetheless pulls out some witty anthems we're expected from them. Touring at the moment for the Meredith Festival, I look forward to Saturday's show at the Factory Theatre.

Art Brut St. Pauli
Art Brut People In Love


13. The Brunettes - Structures And Cosmetics

Filled with dreamy pop ballads, boy/girl duets and influences from 60's girl groups, The Brunettes have recreated its (cringey) atmosphere of pop culture. Notably darker and longer than the usual short bubble gum pop of their previous records, Structure & Cosmetics leaves me a little puzzled. Nevertheless, their shows are adoring and lovely and they'll be back to play in Australia for the Laneway Festival 2008.


The Brunettes If You Were Alien
The Brunettes Obligatory Road Song


12. Die! Die! Die! - Promises, Promises

Dear Andrew, Lachlan and Mike of Die! Die! Die! you are the sweetest band despite your noisy loud thundering sonic punk music and masquerading yourself in fake blood, but then you bring out this record and changed the perception of the way my ears react, quite like metal grinding upon metal delivering a high pitched resonant screech transformed into a rhythmic driven synchronising flow of drum and bass. At times it recalls bands like At The Drive-In, The Blood Brothers and even a little of Les Savy Fav.

Die! Die! Die! Sideways, Here We Come
Die! Die! Die! Promises, Promises


11. Shocking Pinks - Shocking Pinks

Released by DFA Records, this self titled record is a compilation of selected tracks from previously released albums. Picking up music as a young child and been in many bands before, (such as The Brunettes, Pig Out, The Incisions and others) Nick Harte, interestingly incorporates many of these styles of lo-fi noisy dream pop, electronica, funk, jazz and rock to make up what is of the Shocking Pinks. The songs speak emotional recollections, bitter relationships and turns them into warm melodies of exquisiteness.

Shocking Pinks End Of The World
Shocking Pinks Second Hand Girl


10. Les Savy Fav - Let's Stay Friends

After a long awaited return, they're back! Their sense of rawness, party mess and antics of their performances still make their fans love them and share the aim of what the band hoped to make this album appear to be. Defying their career span as a whole from rediscovery, the band have come to sum what is of their twelve years of music making. To me, that sounds like the final chapter, but as enigmatic as they sometimes are, I hope that's not the case, but rather another opening. Yes, let's stay friends.

Les Savy Fav Pots & Pans
Les Savy Fav What Would Wolves Do?


09. Of Montreal - Hissing Fauna, Are You The Destroyer?

Mysterious and ever changing, HIssing Fauna, Are The Destroyer? is a concept album about Kevin Barnes' exploration of his alter ego "Georgie Fruit"; we uncover the glam rocker behind the depression, drugs and emotional instability, but what we get is this dispersion of colours, scattered in the sky, sparking all sorts of frantic behaviours and feelings. It's like suffering from a psychedelic head trip and not being able to recover. It's hard to know where things will end up next for Of Montreal.

Of Montreal A Sentence Of Sorts In Kongsvinger
Of Montreal Bunny Ain't No Kind Of Rider


08. Jens Lekman - Night Falls Over Kortedala

Swedish crooner, Jens Lekman never fails to make hands clap, feet tap and mouths whistle. It's a swoonful album that makes you fall in love easily. With guest appearances from his friends and fellow musicians Frida Hyvönen and El Perro Del Mar, Night Falls Over Kortedala is a journey through Jen's neighbourhood in Kortedala, venturing out into its heart of countless lonely nights and a side of him which opens him to escapism. His song writing fits well with his style of silly pop music, witty and amiable.

Jens Lekman Kanske Ar Jag Kar I Dig
Jens Lekman Friday Night At The Drive-In Bingo


07. Spoon - Ga Ga Ga Ga Ga

Another return from an old love, Spoon's new one is more upbeat, confident, swayful and smooth. They deserve the praise they've been receiving with more than twelve years and six albums under their belt. Spoon have continued to make enjoyable music by reformulating what they do best and tuning it (even if that does mean towards a "commercial appeal") but they've managed to pull it off and craft this experimental piece finely with these catchy hooks, repetitive at times but consistent.

Spoon Finer Feelings
Spoon Don't You Evah


06. So So Modern - Friendly Fires

Ok, this is an EP, more so a mini LP. You were warned, this is crazy dance punk gone absolutely mental in matching jump suits with asthma attacks, complete panic and drowning in sweaty synths and sharp guitar hooks. Provoking their live audience as much as this record has, revisiting some sci-fi movie characters in terms of interpreting into musical expression, So So Modern are more than just a band, they are revolution of creativity. This is the sound of the future; a cataclysmic chaotic confusion combo.

So So Modern Synthgasm
So So Modern Vulture Kisses


05. Taken By Trees - Open Field

Victoria, you take us into your world and we are instantly wrapped within its splendour, making us feel warm and fuzzy by the glow of the sun shining upon the skin. This is an amazing solo debut showcasing minimal arrangements and compositions with her wiskful enchanting coy vocals. A beautiful combination of folk and pop, Open Field is personal, poignant and bittersweet as much of her lyrics confess: "I don't want to be standing alone without a hold to hold".

Taken By Trees Hours Pass Like Centuries
Taken By Trees Tell Me


04. White Rabbits - Fort Nightly

Intrigued by the uniqueness their sound, I wasn't sure what it was, but it sounded like an odd mixture of Latin dancing music and rock. Having two drummers it packs quite a energetic and rhythmic punch along with its thumping keys and three singers, but it doesn't sound as cluttered as the six piece from New York presume to be, instead rather joyous fun for everyone with music tastes of different kinds. White Rabbits deliver a refreshing new sound, self described by the band themselves as "honky-tonk calypso".

White Rabbits While We Go Dancing
White Rabbits Navy Wives


03. Bishop Allen - The Broken String

The words can't really pin point this record, put it into an expression and it becomes a smile. Reworked from the songs of the ten tracks from last year's twelve month ep project, including two previously unreleased tracks, The Broken String is a sparkling treasure chest of timeless cinematic songs in addition to its grandiose orchestration. It's two core members Justin Rice and Christian Rudder (also actors) write effortless likeable tunes which just as internet/blog friendly and a soundtrack to this summer.

Bishop Allen Click, Click, Click, Click
Bishop Allen Like Castanets


02. Vampire Weekend - Vampire Weekend

On the same note as White Rabbits, is Vampire Weekend's début self titled record with their cultural tinge of tropical afro-beats and ska. Not the norm I would delve into but this is absolutely wonderful and incredibly infectious. But what? The album isn't technically released until late next month (which so happens to be next year) and this is just a (Blue CD-R) demo cd! Well, I'll let this slip under "demo album LP" and hopefully you'll all forgive me with all the music, because this really is an album to be put into its place.

Vampire Weekend Campus
Vampire Weekend Walcott


01. Pants Yell! - Alison Statton

Named after the singer of Young Marble Giants, the album not only did it initially make my day, but my whole year. It's become an album to unwind to after a long day. Nothing more than falling short of words to say, Pants Yell! are an earnest indie pop band assembling sweet melodies, jangly guitars and bells chimes to accompany its lyrical melancholy; very much something to hold on to at night. Yet still, this is to be released in Australia in February 2008 by Popfrenzy with the addition of a bonus track.

Pants Yell! Two French Sisters
Pants Yell! Alison Statton



Off The Record - Sandra's Top 15 Albums Of 2007.zip
(All MP3s zipped in a file.)
Labels: Sandra
Tuesday, December 11, 2007


James' Top 15 Albums of 2007

Well, it's that time of the year where all bloggers spend countless hours and hard-thinking into making a list of their favourites records of the year. For me, I have been planning this list since early this year and it has seen at least 50 changes. I'm at the point now where I've just learned to live with the list I have and be happy with it, which after looking at it constantly for the last few days, I am happy with my list. Enough chitter chatter from me, let's get into it shall we?


15. Pop Levi - Return To Form Black Magick Party

There's no doubt about it, Pop Levi is this generation's equivalent musical saviour to that of Prince back in the hey-day. He's music screams psychedelic pop but smothered with this flirtatious charisma that could sooth even the least feminine person in existence. With tracks like Sugar Assault Me Now, Dollar Bill Rock and lead single Pick-Me-Up Uppercut, this album is a win-win for both indie obscurists and older men with tastes that have yet to evolve from that of the 60's.

Pop Levi Pick-Me-Up Uppercut
Pop Levi Sugar Assault Me Now


14. Battles - Mirrored

To be completely honest with everyone, I did not see this record coming at all. It appeared out of nowhere and after reading up about these guys on numerous blogs, I thought I would give into the hype and give these guys the much deserved listen. Half a year later, Mirrored still continue to be played on high rotation. Friends and work colleagues won't have a bite of them (I played them all Atlas and thought it was extremely "pretentious") and I wouldn't have it any other way.

Battles Atlas
Battles Tonto


13. Panda Bear - Person Pitch

An album that didn't take too much time to grow on me. I first posted about Panda Bear earlier this year in the short-lived feature "You Keep An Eye On That Artist" and stated that Noah Lennox's side-project would receive some very high recognition, and judging by a lot of end of the year lists, I was on the right track. If I had a category for Album Artwork of the Year, Person Pitch would be up there.


Panda Bear Bro's
Panda Bear I'm Not


12. Damn Arms - The Live Artex

I'm not going to go ahead and place these guys in any sort of genre because from reading promotional interviews for the album, it's their number one pet hate. This year has been massive for the Melbourne band, after doing tour stints across Australia with Klaxons and Cut Copy their status as a band has increased dramatically and it's almost at the stage where the band is too cool to be cool. The Live Artex was a well worthy wait and features the frantic fast-paced styling most fans have come accustomed too since the beginning, plus some added freshness.

Damn Arms The Not So Progressive Punks
Damn Arms 4 For 10


11. Black Lips - Good Bad Not Evil

I said it a couple of weeks ago and I'll say it again, jump on the Black Lips bandwagon before it's too late. Their live album released earlier in the year has appeared in a lot of end of the year charts and surprisingly this album has not, which has me stumped. Both albums are definitely worthy and both capture a different sense of the band, but I couldn't go pass the studio album.



Black Lips Cold Hands
Black Lips O Katrina!


10. Taken By Trees - Open Field

There's something so complex about Victoria Bergsman's solo alias. After leaving The Concretes last year, she didn't waste time being picked up by a label, lending her vocals to Peter Bjorn & John, and before long, dropping this bombshell of a record. Besides Lost And Found (which was written by Traceyanne Campbell of Camera Obscura fame), Victoria has this strange way of going about her lyrics and manages to create these slow and delicate story-telling songs that grab interest within the first word.

Taken By Trees Lost And Found
Taken By Trees Julia


09. M.I.A. - Kala

When I first purchased this album I had extremely high expectations of Miss Maya and surely after a few listens, those expectations were met. But there's one problem I have with most, if not all, hip-hop albums and that's that I get bored of them way too easily and that's exactly what happened with Kala. Although I still love it, it doesn't have the same feel to it as those first listens. Paper Planes and Boyz I could never get sick of and are on it's own worthy of making this album in the top 10.

M.I.A. Boyz
M.I.A. Paper Planes


08. Love Of Diagrams - Mosaic

You'd think being signed to prestigious American label Matador Records would perhaps boost the fan base of this Melbourne, but that hasn't been the case at all which I love. These guys are so completely different and doing their own unique thing that people are afraid to go near them. As I said when I posted about these guys earlier in the year, Love Of Diagrams is a band Melbourne should be proud and it's better late then never to get on board.


Love Of Diagrams Foam Or Function
Love Of Diagrams The Pyramid


07. Beirut - The Flying Club Cup

Beirut is such a hard character to describe, musically he's this array of diverse intellect but personality wise, his just like one of us. Which isn't a bad thing at all, it just makes us think if what we're doing with our lives is worthy. Having recorded The Flying Club Cup in France, it's blatantly obvious where the influences have been drawn from, but the way he goes about constructing it together and getting a mess of instruments to accompany his incredible vocals is a mystery to me.

Beirut Nantes
Beirut The Penalty


06. Architecture In Helsinki - Places Like This

I loved this record from day-dot. Having seen the band live twice this year it only further sealed the deal that Places Like This is the start of new era for Architecture In Helsinki. Everybody lapped up lead single Heart It Races and follow up Hold Music, but has anyone seen the film clip for Debbie? Now that's an entertaining clip. What Architecture In Helsinki are doing at the moment is what music needs and if it weren't for these guys there would be this massive whole within in music that would be impossible to fill.

Architecture In Helsinki Debbie
Architecture In Helsinki Hold Music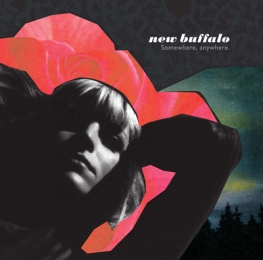 New Buffalo - Somewhere, Anywhere

I didn't mention a lot about New Buffalo this year, but on the quiet side this was one of those records that I would always turn to. If there's one female, besides Sarah Blasko, that has this captivating voice and appeal it's most definitely Sally Seltmann and it's featured so perfectly within Somewhere, Anywhere. Brilliant songs such as Cheer Me Up Thank You and It's True send shivers up your back.


New Buffalo Cheer Me Up Thank You
New Buffalo It's True


04. Bat For Lashes - Fur And Gold

I have no idea why I put off listening to this girl for so long, but succame to the pressures of a few friends and took a stab. Fur And Gold is a surprise package that could be enjoyed by anyone. It has that sort of effect on people to either bring them down or build them up. If we were doing a Top 10 Songs of 2007 What's A Girl To Do would be right up there as one of my favourites for the year. One track that people can't go past though, besides the aforementioned track, is Prescilla, I won't give much away but it could just be the best pop song to be released.

Bat For Lashes What's A Girl To Do
Bat For Lashes Prescilla


03. Midnight Juggernauts - Dystopia

Frequent visitors to my last.fm or myspace would be well aware that it's no secret I love Midnight Juggernauts and I think that's something to not be ashamed of. There's a lot to be thankful for with this band, they've awaken and stolen the spirits, that of late ELO and transformed it into make dance floor fillers and story-telling anthems. I only hope that this band gets better and better, which they have proven with every release.


Midnight Juggernauts Into The Galaxy
Midnight Juggernauts Twenty Thousand Leagues


02. Liars - Liars

No doubting whatsoever that these guys were going to be high up in my charts. They've really gone way out with this self-titled release and bought upon us songs to completely mess with our minds, but still want to show some sort of expression towards it. The changes these guys have made with their sound since their first release is phenomenal. Liars are a mystery, no one knows what goes through their minds or just where their songs are pulled from, and I wouldn't have it any other way.

Liars Freak Out
Liars Houseclouds


01. Patrick Wolf - The Magic Position

I said it earlier this year, Patrick Wolf was going to be my album of the year. Six months later, no record was able to pass the greatness that was this record. Honestly, prior to even hearing this record I was completely unaware of just who Patrick was and after hearing and watching the single The Magic Position I soon went out and bought all his stuff, saw him twice, and announced I was a fully fledged fan. Everything about this album is bewildering; put simply just intoxicatingly brilliant. I wouldn't recommended any other album in the world more than this one.

Patrick Wolf Accident And Emergency
Patrick Wolf The Magic Position
Labels: James
© Copyright Off The Record
Best viewed in 1024x768