Well, it's that time of the year where all bloggers spend countless hours and hard-thinking into making a list of their favourites records of the year. For me, I have been planning this list since early this year and it has seen at least 50 changes. I'm at the point now where I've just learned to live with the list I have and be happy with it, which after looking at it constantly for the last few days, I am happy with my list. Enough chitter chatter from me, let's get into it shall we?


15. Pop Levi - Return To Form Black Magick Party

There's no doubt about it, Pop Levi is this generation's equivalent musical saviour to that of Prince back in the hey-day. He's music screams psychedelic pop but smothered with this flirtatious charisma that could sooth even the least feminine person in existence. With tracks like Sugar Assault Me Now, Dollar Bill Rock and lead single Pick-Me-Up Uppercut, this album is a win-win for both indie obscurists and older men with tastes that have yet to evolve from that of the 60's.

Pop Levi Pick-Me-Up Uppercut
Pop Levi Sugar Assault Me Now


14. Battles - Mirrored

To be completely honest with everyone, I did not see this record coming at all. It appeared out of nowhere and after reading up about these guys on numerous blogs, I thought I would give into the hype and give these guys the much deserved listen. Half a year later, Mirrored still continue to be played on high rotation. Friends and work colleagues won't have a bite of them (I played them all Atlas and thought it was extremely "pretentious") and I wouldn't have it any other way.

Battles Atlas
Battles Tonto


13. Panda Bear - Person Pitch

An album that didn't take too much time to grow on me. I first posted about Panda Bear earlier this year in the short-lived feature "You Keep An Eye On That Artist" and stated that Noah Lennox's side-project would receive some very high recognition, and judging by a lot of end of the year lists, I was on the right track. If I had a category for Album Artwork of the Year, Person Pitch would be up there.


Panda Bear Bro's
Panda Bear I'm Not


12. Damn Arms - The Live Artex

I'm not going to go ahead and place these guys in any sort of genre because from reading promotional interviews for the album, it's their number one pet hate. This year has been massive for the Melbourne band, after doing tour stints across Australia with Klaxons and Cut Copy their status as a band has increased dramatically and it's almost at the stage where the band is too cool to be cool. The Live Artex was a well worthy wait and features the frantic fast-paced styling most fans have come accustomed too since the beginning, plus some added freshness.

Damn Arms The Not So Progressive Punks
Damn Arms 4 For 10


11. Black Lips - Good Bad Not Evil

I said it a couple of weeks ago and I'll say it again, jump on the Black Lips bandwagon before it's too late. Their live album released earlier in the year has appeared in a lot of end of the year charts and surprisingly this album has not, which has me stumped. Both albums are definitely worthy and both capture a different sense of the band, but I couldn't go pass the studio album.



Black Lips Cold Hands
Black Lips O Katrina!


10. Taken By Trees - Open Field

There's something so complex about Victoria Bergsman's solo alias. After leaving The Concretes last year, she didn't waste time being picked up by a label, lending her vocals to Peter Bjorn & John, and before long, dropping this bombshell of a record. Besides Lost And Found (which was written by Traceyanne Campbell of Camera Obscura fame), Victoria has this strange way of going about her lyrics and manages to create these slow and delicate story-telling songs that grab interest within the first word.

Taken By Trees Lost And Found
Taken By Trees Julia


09. M.I.A. - Kala

When I first purchased this album I had extremely high expectations of Miss Maya and surely after a few listens, those expectations were met. But there's one problem I have with most, if not all, hip-hop albums and that's that I get bored of them way too easily and that's exactly what happened with Kala. Although I still love it, it doesn't have the same feel to it as those first listens. Paper Planes and Boyz I could never get sick of and are on it's own worthy of making this album in the top 10.

M.I.A. Boyz
M.I.A. Paper Planes


08. Love Of Diagrams - Mosaic

You'd think being signed to prestigious American label Matador Records would perhaps boost the fan base of this Melbourne, but that hasn't been the case at all which I love. These guys are so completely different and doing their own unique thing that people are afraid to go near them. As I said when I posted about these guys earlier in the year, Love Of Diagrams is a band Melbourne should be proud and it's better late then never to get on board.


Love Of Diagrams Foam Or Function
Love Of Diagrams The Pyramid


07. Beirut - The Flying Club Cup

Beirut is such a hard character to describe, musically he's this array of diverse intellect but personality wise, his just like one of us. Which isn't a bad thing at all, it just makes us think if what we're doing with our lives is worthy. Having recorded The Flying Club Cup in France, it's blatantly obvious where the influences have been drawn from, but the way he goes about constructing it together and getting a mess of instruments to accompany his incredible vocals is a mystery to me.

Beirut Nantes
Beirut The Penalty


06. Architecture In Helsinki - Places Like This

I loved this record from day-dot. Having seen the band live twice this year it only further sealed the deal that Places Like This is the start of new era for Architecture In Helsinki. Everybody lapped up lead single Heart It Races and follow up Hold Music, but has anyone seen the film clip for Debbie? Now that's an entertaining clip. What Architecture In Helsinki are doing at the moment is what music needs and if it weren't for these guys there would be this massive whole within in music that would be impossible to fill.

Architecture In Helsinki Debbie
Architecture In Helsinki Hold Music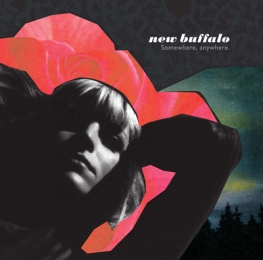 New Buffalo - Somewhere, Anywhere

I didn't mention a lot about New Buffalo this year, but on the quiet side this was one of those records that I would always turn to. If there's one female, besides Sarah Blasko, that has this captivating voice and appeal it's most definitely Sally Seltmann and it's featured so perfectly within Somewhere, Anywhere. Brilliant songs such as Cheer Me Up Thank You and It's True send shivers up your back.


New Buffalo Cheer Me Up Thank You
New Buffalo It's True


04. Bat For Lashes - Fur And Gold

I have no idea why I put off listening to this girl for so long, but succame to the pressures of a few friends and took a stab. Fur And Gold is a surprise package that could be enjoyed by anyone. It has that sort of effect on people to either bring them down or build them up. If we were doing a Top 10 Songs of 2007 What's A Girl To Do would be right up there as one of my favourites for the year. One track that people can't go past though, besides the aforementioned track, is Prescilla, I won't give much away but it could just be the best pop song to be released.

Bat For Lashes What's A Girl To Do
Bat For Lashes Prescilla


03. Midnight Juggernauts - Dystopia

Frequent visitors to my last.fm or myspace would be well aware that it's no secret I love Midnight Juggernauts and I think that's something to not be ashamed of. There's a lot to be thankful for with this band, they've awaken and stolen the spirits, that of late ELO and transformed it into make dance floor fillers and story-telling anthems. I only hope that this band gets better and better, which they have proven with every release.


Midnight Juggernauts Into The Galaxy
Midnight Juggernauts Twenty Thousand Leagues


02. Liars - Liars

No doubting whatsoever that these guys were going to be high up in my charts. They've really gone way out with this self-titled release and bought upon us songs to completely mess with our minds, but still want to show some sort of expression towards it. The changes these guys have made with their sound since their first release is phenomenal. Liars are a mystery, no one knows what goes through their minds or just where their songs are pulled from, and I wouldn't have it any other way.

Liars Freak Out
Liars Houseclouds


01. Patrick Wolf - The Magic Position

I said it earlier this year, Patrick Wolf was going to be my album of the year. Six months later, no record was able to pass the greatness that was this record. Honestly, prior to even hearing this record I was completely unaware of just who Patrick was and after hearing and watching the single The Magic Position I soon went out and bought all his stuff, saw him twice, and announced I was a fully fledged fan. Everything about this album is bewildering; put simply just intoxicatingly brilliant. I wouldn't recommended any other album in the world more than this one.

Patrick Wolf Accident And Emergency
Patrick Wolf The Magic Position
Labels: James