Sunday, June 22, 2008


Broken Social Scene Presents: Brendan Canning
This whole 'Broken Social Scene Presents' project had me really excited from the get-go. Not just because we would all see a
Broken Social Scene
release pretty much every year, but because each member of the band will be taking it in turns to create their ideal record with the band they already play in. It's so simple, yet genius. With
Kevin Drew
's 'Presents' record done and dusted (and a huge success), it's now time for
Brendan Canning
's turn. Personally, this is one I was excited about most because I don't think this man has had much time in spotlight with Broken Social Scene, and is well deserving of it. Much like the last 'Presents' album, they album features pretty much all members of Broken Social Scene and even a few guests, mainly that of
Land Of Talk
front-woman, Elizabeth Powell. The album itself is somewhat a continuance on from Kevin Drew's psychedelic-indie blast but with that little bit more experimentation. It's one of those records that's not going to absolutely blow you away, but it will impress you.
Broken Social Scene Presents: Brendan Canning
All The Best Wooden Toys Come From Germany
Broken Social Scene Presents: Brendan Canning
Churches Under The Stairs
Broken Social Scene Presents: Brendan Canning
Love Is New
Purchase Something For All Of Us.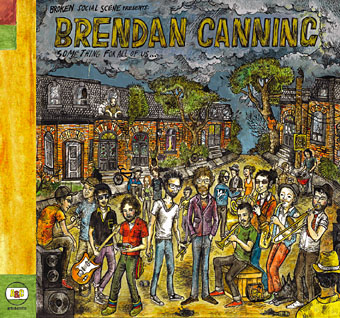 Labels: James
Friday, June 20, 2008


Van She 'Strangers' Tour
This could very well be one of the best electronic/dance/techno tour to ever grace Australia, in my eyes anyway. With the release of Van She's debut album 'V' coming out very very soon, and the lead single 'Strangers' doing wonders already, this tour, in support of the single, is shaping up to be something quite special. And what makes it even more exciting? The band are planning on playing more rural towns and travelling just about everywhere in Australia with some of the best up-and-coming dance acts and bands. Here's a message from the band:
"Yo friends! Since our record is finally gonna come out in August we wanted to get our friends together to celebrate it and play at one big banging VAN SHE and friends party around Australia for 3 weeks to celebrate. So come and put your best Nikes or flouro chuck taylors on and get jiggy with AJAX, DAngerous DAn, HOOPS, Modular DJs, Dirty Secrets, Panther DLX, BMX, Like Woah, Health CLub DJs, Gay Bash Djs, OOHEE, Andee Van Damage, Gloves, Valentino Djs, Virgo Rising, Scientists of modern music, Neon Love, Shazam, Clouds ... and other special guests"
The dates are as follows:
VAN SHE 'STRANGERS' TOUR
July 4: The Empire Hotel, Brisbane
July 5: The Great Northern Hotel, Byron Bay
July 6: Elsewhere, Gold Coast
July 10: Mona Vale Hotel, Mona Vale
July 11: Caringbah Bizzos, Caringbah
July 12: Spanish Club, Sydney
July 18: Prince Bandroom, Melbourne
July 19: Peninsula Lounge, Mooroduc
July 24: The Bakery, Perth
July 25: Mojos, Fremantle
July 26: Eds Castle, Adelaide
Van She
Strangers
Van She
Strangers (Van She Tech Remix)
Labels: James
Thursday, June 19, 2008


'One To The Other (Bumblebeez Remix)' by Wolf & Cub
For the last year or two Adelaide's
Wolf & Cub
have been pretty quiet, only popping out on a few occasions to do some support shows here and there, but it's now reached that time where some are questioning the whereabouts of the band and wondering what exactly are they going to do next. Well, I can safely say that the band are back and are planning on doing a headline tour across most of Australia in support of their soon to be release single 'One To The Other'. The single will be featured on a soon to be released follow up to the highly acclaimed debut album 'Vessels'. There is no news currently on what the album may be called or even when it will be released. One thing the band have managed to drop though is that the album was produced by
Bumblebeez
main-man Christopher Colonna, which in it's own causes all kinds of great sensations within myself. So, with this excellent news in mind and eyes peeled for further news I know leave you a remix in which Mr. Colonna has provided for the world to listen and adore.
Wolf & Cub
One To The Other (Bumblebeez Remix)
Labels: James
Wednesday, June 18, 2008


'Burn Bridges' by The Grates




The Grates are the sort of band that you really - no matter how unbelievably hard you may in fact try - cannot ignore. Their unbelievably infectious, as all us writers have pointed out countless times throughout Off The Record's starting. The three piece have come a long way since their days of just messing about in their garage, and have now risen to become one of Australia's top artist's as well as becoming very well known around the world. The trio don't seem to take a break from the life of music, and in what seems only days ago they were wrapping up their tour in support of their live DVD, their just about to drop their second long-player and follow-up to the Aria nominated 'Gravity Wont Get You High'. 'Burn Bridges' is the first single of the new album 'Teeth Lost, Hearts Won' which will see the light of day on August 2nd here in Australia. For now though, get acquainted with this hand-clapping, chanting and enthusiastic little number that is the band's single 'Burn Bridges' and wait for tour dates to be confirmed.

The Grates Burn Bridges
The Grates Lies Are Much More Fun
The Grates Inside/Outside
Labels: James
Monday, June 16, 2008


5 Songs with The Concretes
If there's one thing that I love when getting the artists I interview to compile a 5 song playlist for Off Tne Record, it's the songs that they choose. Some are very left-field and unexpected, other's I could see coming from a mile away but Lisa Milberg's list was a bit of a surprise. She really knows her music and to hear her talk about it was bewildering. She's a pure delight to talk to and casually sweet. It's been a few whole months now since the release of The Concretes (Victoria Bergsman-less) record 'Hey Trouble' and to my knowledge it has been received exceptionally well down here in Australia. It's got my dumb-founded why they haven't been asked to come back to our shores, maybe in the not to distant future? I still love The Concretes and will always love them, for even when times had them down they were able to get back on track and come back twice as grand. If you haven't yet (which is truthfully stupid if you haven't) five The Concretes the listen they much deserve.
The Concretes
Keep Yours
The Concretes
Keep Yours (Pacific! Remix)
- - - - - - - - - - - - - - - - - - - - - - - - - - - - - - - - - - - - - - - - - - - - - - - - - - - - - - - - - - - - - - - - - - - - - - - - - - - - - - - - - - - - - - -
LISA MILBERG OF THE CONCRETES 5 FAVORITE SONGS
Friendly Fires
Paris
It's a lovely summery tune that makes you feel like life is just one long night. We danced to this in Paris the other week, I really didn't feel I had anything to complain about at that moment.
Let's Wrestle
I Won't Lie To You
I love songs that aren't too polished (I also enjoy some Hall & Oates so I'm keeping most doors open) and this is such a beautiful example of that. It just makes me very happy. They're also a very charming band to see live.
Håkan Hellström
Kärlek Är Ett Brev Skickat Tusen Gånger
This is reason enough for the whole planet to learn Swedish. It's a heartbreakingly pretty song regardless but the lyrics are very special. Sign up for summer courses now... (Lesson one: the title means Love Is A Letter Sent A Million Times)
Bon Iver
Creature Fear
It's actually not a very good idea to pick one song from this album as it should be listened to in its entirety. It's one of those albums you step into, and for the duration of the record it's just the two of you in the whole world and no one can do you any harm.
The Rah Band
Clouds Across The Moon
I'm not really a fan of music (or anything else for that matter) that has a kitsch element to it, but I guess this would have to be my exception. Everyone in the band loves this, it's just something very romantic and sad about it, in all it's sci fi-glitz.
- - - - - - - - - - - - - - - - - - - - - - - - - - - - - - - - - - - - - - - - - - - - - - - - - - - - - - - - - - - - - - - - - - - - - - - - - - - - - - - - - - - - - - -
Purchase Hey Trouble and watch the video for Keep Yours.

Are you Australian? Are you keen on writing? Are you even keener on attending gigs, reviewing, and posting your thoughts? Then you're in luck, because Off The Record is looking for writers. If you think you have what it takes to make frequent posts and keep readers up to date with what's new and exciting in the world of music, or even just what's getting you going at the moment, then please
email me
with your details and we'll discuss further. Remember though, must be Australian. Sorry to International readers.
Labels: 5 Songs with..., James
Saturday, June 07, 2008


!!!
Last Thursday I got to see
!!!
play a really intimate live show at Rocket bar. It was swell to say the least. These guys were amazing. There were about 8 of them crammed onto one of Adelaide's smallest stage with so much awesome gear. Almost every conceivable space was filled with percussion instruments, guitar pedals, samplers and synthesizers. You should really go out and see them for yourself. They are everything you would want in an electronic band, with the types of grooves and beats that get the floor shaking with dancing feet as well as having a penchant for spaced out, dub infused jams.
They are playing the We Love Sound festivals in both Sydney and Melbourne as well as a bunch of other clubs and festivals around the Northern Hemisphere. They are also playing the Metro in Sydney with
Lost Valentinos
and
Teenagersintokyo
, a line up to die for in my opinion.
Their touring company
Civil Society
have a couple of choice remixes on offer.
!!!
Heart of Hearts (Scottie B remix)
!!!
Must Be the Moon (Hot Chip remix)
Scottie B
's remix of my favourite track off Myth Takes and gives it a sort of synthetic four to the floor beat with more hand claps, which are definitely loveable additions.
Hot Chip
's remix of Must be The Moon if probably my favourite remix of theirs. Going with a less is more approach they subtly add more synths to an already stand out track.
Labels: Winston
Tuesday, June 03, 2008


Action Biker
Under the project "
Action Biker
" named after the C64/Atari game, Swedish electro pop chanteuse Sarah Nyberg Pergament makes lustrous music self described as "baroque on synths". Raised by both classical schooled musicians as parents, her musical interests hampered and flourished along with her notable influences and musical similarities to Young Marble Giants, Broadcast, Francoise Hardy, Saint Etienne, Stereolab and The Human League; for creating the basis of her textured synths, tapping drum machines and lush vocals in assembling this dreamy, wistful analogue drone. Her debut album titled
Hesperian Puisto
, takes its name after a park in Helsinki, Finland; as it coos and echoes the disperse of Spring with its gleaming, indolent, soft but soaring and rippling casio beats enveloped in its lonely dreams and sweet self indulgence of warmth and comfort. One my favourites of this year so far, the album was released a little over a month ago through
Friendly Noise
Records.
Action Biker
Love For Sure
Action Biker
By Myself
Action Biker
Refridgerator
Purchase Hesperian Puisto and watch Be Myself/Love For Sure/A Fight (Digfi Session)

Labels: Sandra
Monday, June 02, 2008


5 Songs with Cryptacize
As some of Off The Record's regular readers may well be aware of, I'm a big fan of
Nedelle
and will lap up just about everything she becomes involved with. So when she first told me news of her side-project from her solo work,
Cryptacize
, I was of course intrigued. Disappointed I was not, and to find out they their debut album,
Dig That Treasure
, has been doing wonders has me feeling silly. Nevertheless, I should not let that stop me from continuing on. If you were a fan of Nedelle Torrisi's work by her lonesome, then there's no doubting whatsoever that you can't pass up the opportunity of listening to Cryptacize. It's fun, it's catchy but most of all of it's extremely happy, and there doesn't seem to be enough of this these days. The band is signed to Asthmatic Kitty, and it shouldn't be too long until this trio gets their name about (check out the tour dates on their Myspace for further proof).
Cryptacise
Cosmic Sing-A-Long
Nedelle was kind enough to take some time out to lend a hand in Off The Record's latest feature '5 Songs with...' and compiled some nice little diddy's for us all.
- - - - - - - - - - - - - - - - - - - - - - - - - - - - - - - - - - - - - - - - - - - - - - - - - - - - - - - - - - - - - - - - - - - - - - - - - - - - - - - - - - - - - - -
NEDELLE TORRISI OF CRYPTACIZE 5 FAVORITE SONGS.
Why?
Simeon's Dilemma
We just finished touring with Why? and I still wake up every morning with one of their songs in my head. Too damn catchy! The melody of this song is really beautiful, I think, and the structure is odd. It just builds and builds and near the end the bassline moves and the drums intensify and it's really powerful! Then it just sorta ends. Strange song.
Cass McCombs
Pregnant Pause
This song also has a gorgeous melody, I guess I'm just a sucker for them. I really like how perfectly the beat is executed, and since it's continuous throughout the song it sort of hypnotizes you and makes you focus on the chord changes and rad melody. I also love Cass's voice.
Howlin' Wolf - 'I Asked for Water and She Gave Me Gasoline'
That's such a great line! I love these lyrics.. The drums on this song sound so so good, too. My favorite part about this song is the dissonant guitar riff that repeats over and over, but he never plays it the same way twice. The piano is really out of tune too, giving the song a bizzare quality.
Dion And The Belmonts
Where Or When
This is the perfect song for me because I love songs from musicals, which this is (Rodgers and Hart) and I also love doo wop. A great combo! The song sounds kind of demented- i think it's the combination of the slow and plodding rhythm and the harmonies.. Dion's voice is so sweet sounding too. I love it.
Ariel Pink
Interesting Results
He takes a subject that could be mundane in someone else's hands, like writing a song, and it turns out profound! This song could be his manifesto about making music... or a manifesto about creativity in general. It has a lot of parts but they fit together in this perfect way, like a classic song. Chris likes to listen to this song while driving, it makes him happy.
- - - - - - - - - - - - - - - - - - - - - - - - - - - - - - - - - - - - - - - - - - - - - - - - - - - - - - - - - - - - - - - - - - - - - - - - - - - - - - - - - - - - - - -
Purchase Dig That Treasure and watch the video for Cosmic Sing-A-Long.

Labels: 5 Songs with..., James
© Copyright Off The Record
Best viewed in 1024x768